The aim of the North East Essex Badger Group is to promote the well-being of all badgers in this part of the county, and protect them from persecution or criminal acts
We do this by regularly monitoring all known badger setts in the area, by responding to calls to the Hotline and upholding the legislation of the Protection of Badgers Act 1992.
FIND OUT HOW TO BECOME A MEMBER
---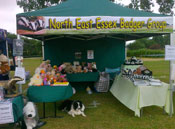 WE WILL BE TAKING OUR STALL TO VARIOUS EVENTS THROUGHOUT THE YEAR, PROMOTING OUR GROUP AND THE PLIGHT OF BADGERS BOTH LOCALLY AND NATIONALLY.

THESE EVENTS ALSO HELP TO RAISE MUCH NEEDED FUNDS AND BOOST MEMBERSHIP. COME AND MEET US AT THESE PLACES!!
Read more....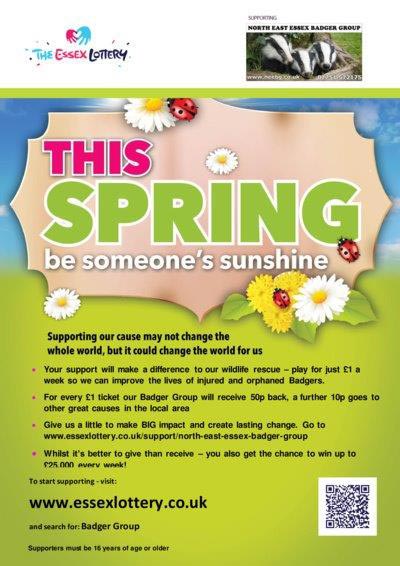 Membership Renewal Information
At the recent Committee Meeting, some changes were agreed to the way Membership Renewals are handled for the North East Essex Badger Group.
Firstly, renewing members will no longer need to sign an annual 'declaration of opposition to badger persecution and cruelty to wild animals and support the aims and principles of the North East Essex Badger Group'.  However, this will remain a requirement for all new members. This will negate the need for renewing members to return a membership renewal form to the Membership Secretary.
Payment by cheque or by online banking will remain the two methods of payment.  Cheques will need to be returned to the Membership Secretary.  Members renewing by the online method will be requested to email the Membership Secretary at the time of payment, to ensure an unnecessary second reminder is not sent to them.
Secondly, membership cards will be issued to ALL members renewing over the next 12 months.  These cards will not have an expiry date, so members who need them for sett checking or attending incidents will be expected to keep their membership cards in a safe place.  At the end of the 12 month period, no further membership cards will be issued to existing members – only to new members at the time of joining.
The above changes are designed to make the process of renewing membership of the Group as easy and straightforward as possible.
ALL THE ABOVE INFORMATION WILL BE EXPLAINED IN MORE DETAIL IN THE LETTER YOU WILL RECEIVE WHEN YOUR MEMBERSHIP BECOMES DUE FOR RENEWAL.
---
---
News From The Cull Zone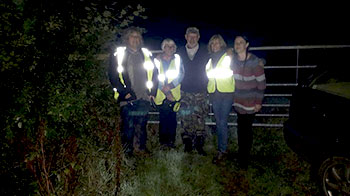 By now you will all know that the killing has started in 10 areas of the West Country with around 11,000 badgers due to be either cage trapped and shot or shot free running. So dreadfully sad and so wrong too!
All of those badgers will be dying for nothing. Btb in herds in the cull areas of Somerset and Gloucestershire has actually increased! So frustrating that the science and facts are ignored to appease the NFU.
I thought you may be interested to read one of our Albi's blogs from Facebook - he is down in the Somerset cull zone and will be staying for the entire 6 weeks, as he has for the previous 3 years.
He has driven over 800 miles in just the first week or so! Such a huge commitment:
Another long stint yesterday getting to bed around 6 this morning. Following on from a couple of nights of shooting (mostly diversionary tactics we believe although they did have limited success but we had more;-)) it was quieter on their side but we continue every day and night and we succeed day and night.
I've seen so many foxes this last week which is lovely but can't help wondering if it's as a result of the diminished Badger population. I did see a Badger last night on my way home which was such a fabulous lift to the soul :-)

Anyhow, still here, haven't been shot yet so onward n upward. "
Good work is going on in all zones! Just yesterday 4 badgers, including a cub, were liberated from cage traps in Devon - all were believed to be from the same sett.
I will be going down to Somerset at the weekend (back on Weds)with a few members to link up with Albi to try to do our bit for the badgers - we will be looking for bait points (where they tempt the badgers with peanuts in order to get them in a position to shoot) and cage traps as well as doing some sett surveying and night-time sett watching.
https://petition.parliament.uk/petitions/165672

The above is a link to a government e-petition started by TV's Simon King which will run until February 2017. It already has c. 36,000 signatures and when it reaches 100,000 there will have to be a parliamentary debate. Please circulate it to as many others as possible and ask them to do the same as soon as possible.
---

Badger Trust promotes the conservation and welfare of badgers and the protection of their setts and habitats for the public benefit. They are the leading voice for badgers and represent and support around 60 local voluntary badger groups.
Your money is paying for over 30,000 badgers to be killed.....
September 11, 2017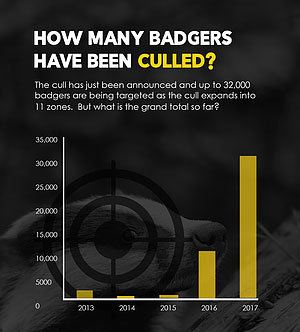 Today, DEFRA has announced the continuation and expansion of the killing of thousands of badgers across England. 11 new zones have been confirmed with a maximum number of 32,247 badgers to be killed in 2017 alone! This means that, by the end of this year, 47076 badgers... Read More...
---