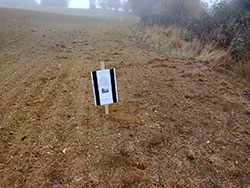 Those of you that monitor setts will quite often encounter the ploughing in of badger entrances in arable fields. Most often we turn a blind eye if the damage is just shallow ploughing to a couple of sett entrances that are adjacent to entrances in a ditchline or field edge. But one particular incident in September saw me seeing red!
Around 4 years ago a sett was heavily ploughed in and around 8 entrances completely hard blocked. This was reported to police in our usual manner and was in fact visited by the Wildlife Crime Officer himself who posted about it on Facebook. I have never known who the landowner was and as the field is in the middle of nowhere enquiries to locals led both myself and the WCO nowhere and we never discovered who the mystery farmer is.
The sett gradually recovered with odd entrances being excavated in the arable field once more and at each subsequent check I was pleased to see so much activity. Until September of this year that is!
The sett area, comprised of about 10 entrances in the arable field, had once again been destroyed. For those that are unaware - badgers cannot dig out when heavily blocked in! The only hope for their survival is that the tunnels are connected to unblocked entrances further away that allow escape from suffocation underground. Two or three entrances in the ditch remained open, so there was some hope for the badgers.
The offence was reported to Essex Police and an Incident number obtained as usual. A visit was made by PCSOs but enquiries once again failed to establish the identity of the landowner and the case was again closed.
I attempted to get the required info via Land Registry but with no address or postcode this seemed impossible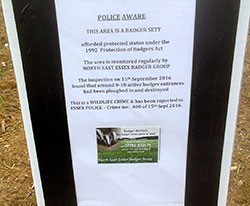 I wasn't prepared to let it go again and decided to take matters into my own hands by erecting signs at the site (see pics) and informing Essex Police that I had done so because of course I was trespassing by visiting the sett at all. They were accepting of my action and indeed are pondering whether we could be allowed to add the Essex Police Logo to any future signs. The information was also posted on our Facebook Page and very soon I had received information that a friend had some software that allowed for the information to be gained from Land Registry using only a Map Reference, which I obviously had.
So, for only £3, the name of the landowner was duly obtained and passed to Essex Police, and I asked for the case to be re-opened.
The landowner has now been visited by the PCSO and has been warned that he must ensure his employees are aware of the sett and understand the law that protects it. The signs remain in place to ensure further damage is avoided.