The North East Essex Badger Group produces a colourful and interesting Newsletter twice a year.  Each member receives a copy either by e-mail or as a hard copy through the post.  Every edition is packed full of articles concerning local badgers as well as news on forthcoming events and updates from Badger Trust.  The back page has a list of Committee members, their contact details and information on where and when monthly meetings will take place.  Also included are contact numbers and information for various pertinent wildlife groups.
Below is a sample article from the current Newsletter.  To receive the full copy – all you need to do is join us!
A Tear Jerking Story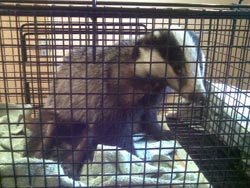 Late on a Friday evening I was called out to a badger seen dragging its leg as it walked along the pavement. On arriving in the street, the badger had disappeared into a very overgrown brambly garden.
The nice couple who had eventually been given the number and phoned the hotline, said they had seen it go into the garden, and until very recently had been listening to the noise of it eating. However, despite waiting around for an hour or so, there was no sign of it. In my wisdom, I thought that if it was eating, then it couldn't have been badly injured, but left my phone number.  As is the way, out shopping Saturday lunchtime and a phone call is received saying the badger has re-appeared several gardens away from where we originally looked.
It was, fortunately, easily located and, after a moderate "sprint" ended up in my cage.  I mention "sprint" because it was no easy capture, but once in the cage, the badger I was looking at was a heart-breaking sight. She made no noise, just sat upright looking around - very alert - but SAT UPRIGHT with her two rear legs out in front of her - seemingly paralysed.  Off to Vets Now, where a very knowledgeable and caring South African vet had a look at her.
As you can see from the picture, she was extremely interested in everything going on around her. Any noise and her head turned in the right direction and, in fact, you could gently touch her without any aggression being seen. She could have been a domestic pet!  However, the extremely distressing reality was that this youngish female badger was found to be paralysed from the back end downwards. She had obviously been like this for some time judging by the hardened skin, and wear and tear on her leg bones - but had got over the trauma and had adapted to her disability (at least in the short term).  The vet was of the opinion that this had been caused by a bite which had become infected, as there was an area of healed and now healthy skin at the top of her tail. Who knows what she went through before getting on with life to the best of her ability?
One vet, one vet nurse and one NEEBG volunteer shed a tear as this absolutely beautiful and courageous female gently fell asleep..