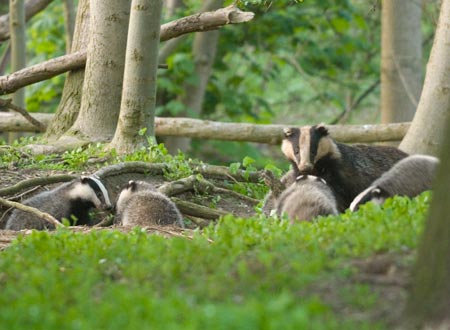 Badger watching is one of the most enjoyable and relaxing ways to spend an evening. In order to see badgers in the wild, it is necessary to sit still and quiet (otherwise, they just won't show).  However, given the busy and stressful lives we all seem to lead nowadays, badger watching is a perfect opportunity to 'switch off' and let your mind wander.  While waiting for the badgers to emerge, you may be lucky enough to see all kinds of other wildlife, which are completely oblivious to your presence – deer, rabbits, foxes, owls, bats, squirrels, mice etc etc.
In May 2006, the North East Essex Badger Group officially opened their new badger watching facility in woods between Gosfield and Sible Hedingham.  It is open to members of the public to book as well as group members.  It seats 4-6 people comfortably and overlooks a well established sett, giving good views of the badgers as they emerge.  Visits are however, limited to twice a week in order to minimise disturbance to the badgers. The hide is available for use by
NEEBG members free of charge but is also intended to be used as an educational facility for accompanied groups or individuals for a small charge.  Following a first visit, accompanied by a member of the Committee to show the location etc, you will be able to book further visits whenever you wish, subject to availability.
The hide has been fairly well tried and tested since its opening and most visits have produced sightings of between 1 – 6 badgers, some really close too!  Please be aware, however, that sightings cannot be guaranteed.  These are, after all, totally wild badgers and as such can be notoriously unreliable.
The woodland paths can be muddy at times, so suitable footwear should be worn and you will need a torch for the walk back to the car park. From the car park, it takes about 15 minutes to walk to the hide which gives you a chance to enjoy the lovely surroundings.
You will need to be silent inside the hide, so it not really suitable for young children.  You should be prepared to stay until the badgers have moved further away to feed or gone back underground.  Badgers should never be aware they are being watched, or they may not oblige in the future.
In addition to the Hide, the group also has permission to watch badgers in woodland in Fordham.  The badgers here have been encouraged over the years to make regular appearances thanks to one founder member's complete devotion to them.  However, numbers of visits and visitors are strictly limited.
For further details on either of the above places or to book, please ring
Glenis on 01376 583256