Orphaned Badger Cubs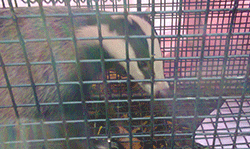 One year after we facilitated the release of seven orphan cubs from Secret World in Somerset we've tracked them down to the sett that they've created for themselves just a short distance away from their starter home near to Great Bardfield.
When badgers are released into newly created artificial setts it's impossible to predict if they will stay put or choose somewhere more to their liking. In previous releases in our patch some have stayed put and some have moved on. Following the 2018 release we quite soon realised that the badgers had moved on despite our belief that we had chosen the perfect spot with the blessing of the landowner. Where they'd moved to remained a mystery until very recently. Now we're pleased to report that they have found an even better location, less than half a
kilometre from the original site in a quiet sloping woodland with a lake - perfect.
Our three 2019 Essex orphans have recently been released from Wildlife Aid into their new home somewhere in Surrey, let's hope they enjoy their new found freedom wherever they choose to make their home.